Canadian Dairy Network (CDN) has been offering genetic evaluation services for over twenty years now. During this time period the landscape of the A.I. sector in Canada has changed enormously. Even though there has been consolidation and integration involving some A.I. organizations, there are presently many more players in the business of selling semen to dairy producers.
One reason for the increased number of A.I. organizations doing business in Canada is the arrival of genomics and the trend towards a greater usage of semen from genomic young bulls compared to proven sires. Prior to the genomics era, breeders tended to buy proven sire semen, as the most valued semen product, only from A.I. companies that also offered a structured young sire testing program, which included financial incentives for participation. Now, with genomics, accurate genomic evaluations can be derived simply from a DNA sample from a young bull born anywhere in the world.  This means that the A.I. owners of those young bulls now have easier access to the Canadian marketplace for offering semen from their genomic young bulls. This reality of today leads to more A.I. businesses operating in Canada and therefore an increased level of competition.
Market Share
Annually, CDN estimates the market share in Canada of its various A.I. member organizations. Table 1 provides an overview from this analysis, both nationally and within each province, based on Holstein heifers born in 2016 that have been registered at Holstein Canada. Only those A.I. companies with a market share of at least 0.1% are included.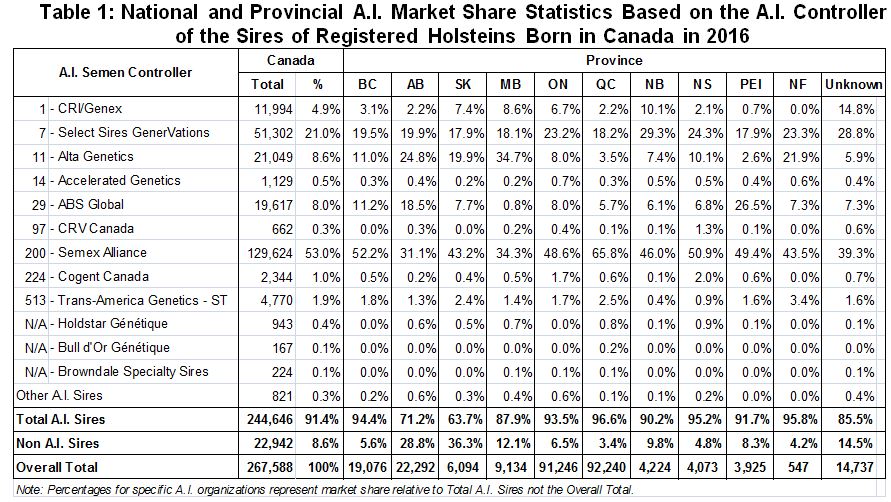 Nationally, Semex occupies over half of the A.I. market share at 53%, followed by Select Sires GenerVations (21%), Alta Genetics (8.6%) and ABS Global (8.0%) while all other companies have less than 5% of the market based on heifers born in 2016.
When looking at the market share statistics by A.I. company across the ten provinces, much variability can be observed. For example, the Semex market share is highest in Quebec at nearly two-thirds and is lowest in Alberta and Manitoba at roughly one-third. On the other hand, these are the two provinces where Alta Genetics achieves its highest levels of market share at nearly 25% and 35%, respectively. ABS Global also has varied market share by province peaking in New Brunswick at 26% but less than 1% in Manitoba. Select Sires GenerVations has quite a consistent market share across all provinces, ranging from 29% in New Brunswick to 18% in Saskatchewan, Manitoba, Quebec and Prince Edward Island.
Outside of these four A.I. organizations, there are currently ten other A.I. businesses that are members of CDN, all of which have overall market shares of less than 5%. This demonstrates the increasing number of A.I. players in the marketplace competing for business from Canadian producers. Some of these companies have a presence in most provinces, such as CRI/Genex with 4.9% of the national market share and reaching 10% for New Brunswick. Some of the other companies that have been more recently established are active in only a few provinces.
Overall, 8.6% of the registered heifers born in 2016 are daughters of non-A.I. sires, or herd sires. This statistic is also widely variable across provinces ranging from 36% in Saskatchewan and 29% in Alberta to only 3.4% in Quebec. In general, however, the use of herd sires has been slowly decreasing each year.
Summary
With over a dozen A.I. organizations doing business in Canada, producers have access to semen from hundreds of sires. Since the arrival of genomics, semen from genomic young bulls now represents roughly two-thirds of the market while proven sire semen takes up the remaining one-third. Nationally, five A.I. companies have a market share of 5% or more with Semex taking 53%, followed by Select Sires GenerVations at 21%, Alta Genetics at 9%, ABS Global at 8% and CRI/Genex at 5%.